In one instant the waiting game for that baby is over. The pain starts, the water breaks and it's time to take your wife to the hospital. For much of the process, your job has been to support her emotional extremities and help her get through the long process of pregnancy, but now is the time that you must step up and

make decisions

for your wife. There are three things that must be considered when making that journey to the hospital.

1.

Be Aware of Contractions

- One of the tell-tale signs that the early stages of labor are present comes in the timing of your wife's contractions. Be ready to help her count the length and frequency of her contractions, and be prepared to declare labor when they come in five minute intervals or less and the contractions last for more than 30 seconds.

2.

Take the Responsibilities-

Although you are not expected to be her labor coach, you are expected to be prepared and know what to do once the time comes. Tending to your wife's physical and emotional needs, and acting on her behalf will make the transition into the hospital much smoother and less hectic.

3.

Pre-Pack for the Hospital Trip-

When things begin to happen, there will be no time to run around packing hospital necessities. Pack what you will need in advance to save time and discomfort from your wife.

Alexis Dominguez

, a Miami OB/GYN Physician, mentions that prepared husbands make the process much less burdensome for the expecting wife.
Powered by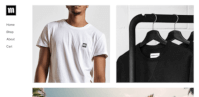 Create your own unique website with customizable templates.